[ad_1]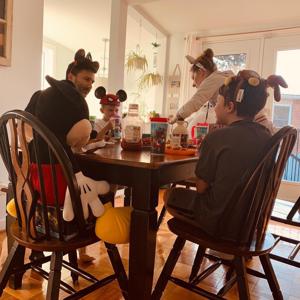 One of the silver linings of being quarantined in this day and age is that there is no shortage of fun ideas online on how to entertain your kids at home. Our household is a Disney loving one, and with that I thought I'd share some ideas on how to visit Walt Disney World from the comfort of your own home!
Character Dining- We love the character dining experiences at WDW, so decided to have breakfast with Mickey and friends. We made Mickey shaped waffles and brought out our biggest Disney plushes. As an added touch, we drank from our refillable Disney resort mugs and made sure to wear our Magic Bands and Mickey ears!
Sorcerer's of the Magic Kingdom game- Every time we go to the Magic Kingdom we stop by the Main Street Fire House to pick up a new set of Sorcerer's of the Magic Kingdom cards. This is a free interactive game that can be played around the park. On our last trip we bought the board game so that we can continue the adventure at home. With Magic Kingdom music playing in the background, we successfully defeated Cruella DeVil! The board game and cards are available to purchase online at ShopDisney.
Virtual rides- Next up we set the kids up in a recliner chair in front of the tv to go on some virtual rides. Thanks to Youtube you can enjoy a virtual experience of every ride at Disney World. Fun tip: make sure to have a spray bottle ready for the big drop on Splash Mountain!
Epcot- In preparation for our Disney day, the kids and I made a flag for every country in Epcot's World Showcase. I then made Epcot showcase passports for my kids, thanks to Pinterest. We watched YouTube tours of each pavilion as the kids filled out their passports with facts on each country.
Fireworks- Every night at Disney world ends with fireworks, and there's no reason for a quarantine to change that! At 8pm, head back to YouTube and watch your favourite Disney fireworks display. I personally love Disney's Not-So-Spooky fireworks from Mickey's Not So Scary Halloween Party!
There are many more fun ways to bring Disney magic home! You can re-create your favourite Disney meal or simply make food items Mickey shaped. If you have Star Wars fans in the house, take out those lightsabers and train to be a Jedi via Jedi training videos on YouTube. Bring a screen outside and watch your favourite Disney movie under the stars, as a bonus if you have a souvenir popcorn bucket, make sure to fill it with popcorn!
Most importantly, have fun and stay safe!
Meredith is a Disney obsessed stay-at-home mom. When she's not planning a trip, you'll find her with her nose in a book.
[ad_2]

Source link