[ad_1]

Savory chicken and rice topped with the tropical flavors or pineapple and coconut, plus juicy tomatoes, crunchy almonds and more, make this Hawaiian Haystack Skillet a one-pot meal family dinner winner!
What is a Hawaiian Haystack?
Everytime I post this meal on Instagram, I get people asking what this is! We love the flavors of Hawaiian Haystacks. You start with a base of chicken and rice that is creamy and comforting. Then you add the toppings which really make this meal.  There are so many yummy and healthy fruits and veggies that you can pile on top for variety of flavor, texture and color.  Some of our favorites are:
Pineapple
Tomatoes
Coconut flakes
Slivered Almonds
Olives
Green Onion
Shredded Cheese
Chow Mein Noodles
Celery
Red or Green Bell Peppers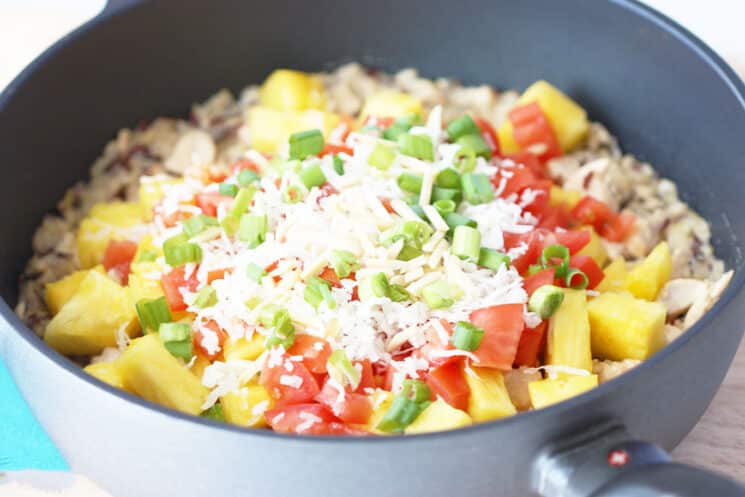 How to Make Hawaiian Haystack Skillet
The reason we love this recipe so much, is because you can make it all in one skillet. Some of our favorite meals are one-pot meals.   Less dishes is a win for everyone in the kitchen!
To begin, cut up chicken into bite size pieces and cook in your pan, just until brown on the outside.   Next you will add your coconut milk, chicken broth, and rice.   Simmer on low for 15-30 minutes depending on what kind of rice you are using.  You will know it is done because the liquid will be absorbed and your rice will be soft.  We used a wild and brown rice/quinoa blend and so ours took a while to finish cooking.  The more dense the rice, the longer it will take to cook.  While it is simmering away, prepare your toppings.  We used fresh pineapple because we think it tastes better!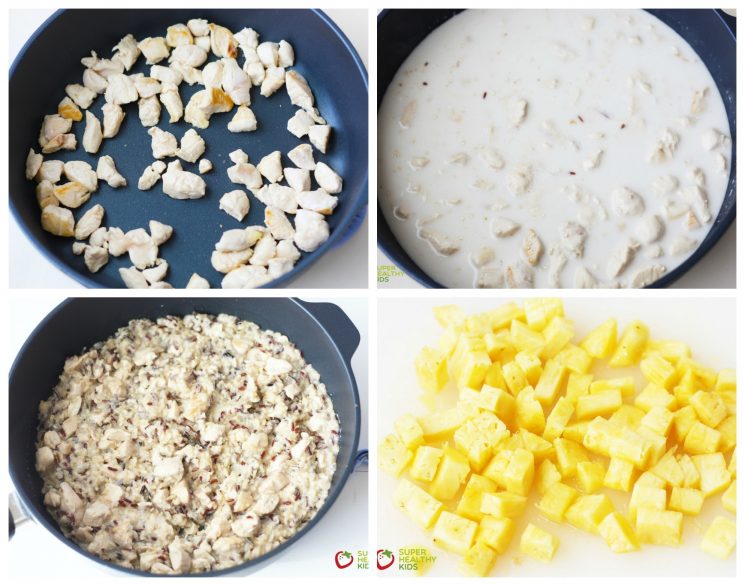 Pineapple Hack
The trick to a super sweet juicy pineapple is to store it upside down on your counter for a few hours before cutting it.  If your pineapple isn't quite ripe, you can leave it upside down overnight.  All of the juices and sugars run throughout the pineapple making it absolutely delicious!
The toppings we included on our haystacks:  fresh pineapple, chopped tomatoes, sliced green onion, shredded coconut, and slivered almonds.
Once your rice and chicken mixture is done, remove from the heat and add your toppings.  We layered with the pineapple first, then tomatoes, then shredded coconut, then green onion and finally slivered almonds.  This is a versatile meal because you can add whatever toppings your kids like!   We hope you enjoy this fresh meal as much as we did!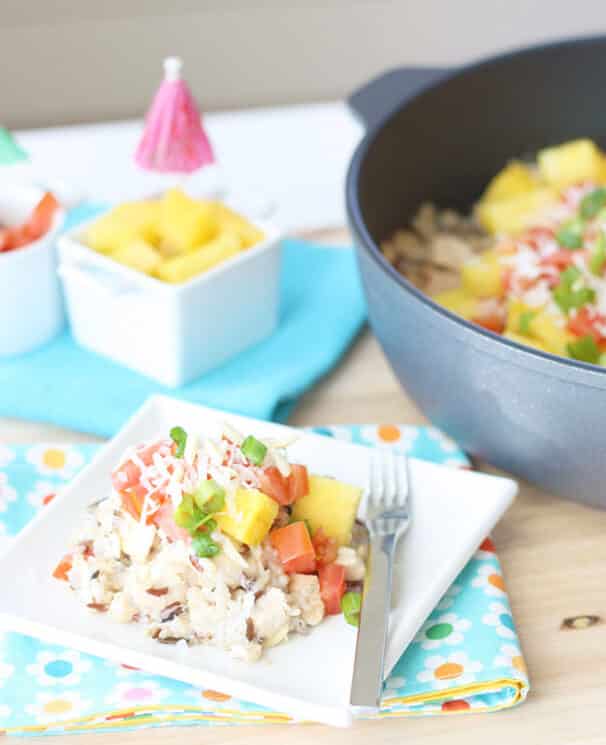 More One-Pot Meals
2

chicken breast

1

cup

coconut milk

1

cup

chicken broth, low-sodium

1

cup

brown rice, raw
Toppings
2

cups

pineapple

chopped

3

medium

tomatoes

2

stalks

green onion

1/2

cup

coconut flakes

1/4

cup

slivered almonds

More ideas: black olives, shredded cheese, chow mein noodles, celery
Cut chicken into bite size pieces

In a saute pan, cook chicken in 1 tsp oil over medium high heat, just until browned on the outside.

Add coconut milk, chicken broth and rice. Bring to a boil.

Reduce heat and cover.  Simmer over low until liquid is absorbed and rice is softened.

Meanwhile, prepare toppings.

Once chicken mixture is done, remove from heat.

Layer toppings over chicken mixture.  Serve warm.
Calories: 513kcal | Carbohydrates: 60g | Protein: 22g | Fat: 22g | Saturated Fat: 15g | Cholesterol: 41mg | Sodium: 90mg | Fiber: 6g | Sugar: 15g
[ad_2]

Source link